Introduction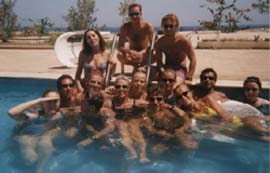 The Camel Tribe in the Villa Maguna's Pool, 1997
The Sinai is a triangular piece of land tucked between Africa and the Near East. It was here, in this "Moonscape", he arrived in November 1995 knowing that it was one of the best places for diving in the world.
He started diving here with the Red Sea Diving College where he completed his PADI Divemaster and Instructor Courses. Not long after, he was employed by Camel Dive Club and became a valued member of a very cosmopolitan team of divers. He taught courses in English, French, and Japanese. During his time here he also learnt to converse easily in both Arabic and Italian. Although his original plan was to stay in the Sinai for only one season, he would not leave the Sinai until more than two and a half years had passed in April 1998.
In June 1997, he received a copy of the Harvard College Class of 1992 Alumni book, a book of names of people in his class giving brief updates on what each student had been doing over the 5 years since graduation. There were people working on their doctorates, earning their millions on Wall Street, and attending business or law school. Surely people thought he was wasting his enormous talents here in the Sinai? This is when he summed up to me why he was here in Sinai and not "doing the usual thing" back home. I'm gathering stories, he said, looking for different experiences - and then I'm going to do travel articles for The New York Times and let the office bound victims know what a beautiful, interesting world there is out there.
The cool, cosmopolitan city of San Francisco was his next step where he would take his first steps to realizing these goals....
Claire Buckley