Okay; Amsterdam... April 31st, 1998...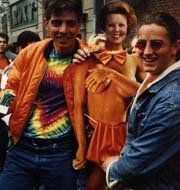 Hans and Arno with the Dutch Queen Beatrix in her birthday suit in front of the RoXy, Amsterdam

Anton calls me with precision timing: he calls me from Paris just a few hours away from the start of Holland's party of the year: the Queens birthday (see picture with naked Queen Beatrix). He doesn't waste a minute and hops on a train... 5 hours later I picked him up at the station in The Hague, and we're off to Amsterdam with a big group of friends...and 5 million other party animals. Anton adapts to his environment very easily, and his sense of humour was an added value to the group.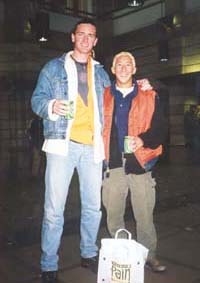 Hans picking up Anton at The Hague train station

Just a few minutes away from Amsterdam's Central Station, a young foreigner (also on vacation in Holland, but with his parents) asks us what in the name of God is going on in Amsterdam. Picture each and every street in Amsterdam knee high in empty beer cans, loud music coming from every direction, people all dressed up in orange -the national colour-, and everybody is just jamming! Picture a Rolling Stones concert and multiply the crowd by 100, add a lot of semi-illegal substances and there you have it... Anton addressed this young man and replied with a straight face: 'What do mean what's going on? This is Amsterdam, it's the weekend... This is normal for Amsterdam, man!' You should have seen the expression on the guys face...flabbergasted! He spent the rest of the weekend being a clown.


Anton the Clown
Anyway, we inched our way through the crowd, stopping for beers every 50 yards or so... I won't get into the details of the entire day and night because I could write a book about it, but by 5 in the morning we were all too pissed up to go on... As we all know, Anton did not handle alcohol too well, and he (like the rest of us) was in pretty bad shape. We stumbled back to Central Station, tripping over passed out drunks and narrowly avoiding a projectile vomit now and again. It took forever, but eventually we did find that train back to The Hague. Everyone on that train was in such a state, and very few people managed to stay awake. I don't know how, but I awoke with a shock at our stop and struggled to wake everyone up (easy to say but hard to do). A few woke up slowly, other I had to shake and kick. Anton woke up, mumbled something incomprehensible, gave me the finger, and passed out again. This happened a few more times: I'd wake him up, he'd say something like 'okay, okay, okay, piss off. I'm fine... I'll be there in a sec.' I'm trying to tell him that this train is about to leave again but he's dozing off again. The train-whistle blows signalling its departure, so I tell my mates (the ones that are 'sort of' awake) that I'll warn the train conductor to buy us some time, and they should just carry the ones that are still passed out off the train. Moments later (I'm still searching for the guy with the whistle) I see my buddies stumble out of the train. I run back and find that Anton is missing... All of this is happening within a minute or so, and just as Anton wants to depart the train... the doors shut. Right in his drunken face... You should have seen his expression as he realised what was happening...
This was Anton's first night in Holland. He had dropped all his bags & belongings of at my brothers house. His money was spent, he didn't have a clue where he was going, and -worst of all- he didn't have our address and/or telephone number on him. And he was drunk...very, very drunk. My buddies hopped in various taxi and I stood there at the station wondering what would become of Anton. I found a guy from the railway police and asked where that train was heading for (Belgium!) and explained the story. The guy had a heart, and called it in to his colleagues at the next train stop. I later heard that the police boarded the train, spotted a very drunk oriental-looking guy with peroxide blond hair and an American accent, pulled him off the train, and escorted him back to The Hague.

Anton in the telephone cell

Meanwhile, I was waiting on a little bench next to junkies and drunkards (trying desperately to stay awake myself - in vain). Hours later (it must have been about 8 in the morning), I wobbled through the station and found a confused and slightly worried Anton in a telephone cell. He was trying to make a call with his credit card in the slot designed for telephone cards and was attempting to reach an operator (and he'd ask to speak to Hans, please)...

Anton had a big hang over that day, as did all of us. Fortunately, he stayed for two and a half weeks (instead of just a few days) and we made a few more memories (and hangovers) that holiday.

--Hans